The Benefits of Reading Early with Your Kids
So, what is early childhood literacy?
Early childhood literacy is what children know about reading and writing BEFORE they actually learn to read and write. Believe it or not, they're actually learning many literacy skills in their first 3-5 years of life, a critical period of brain development, that serve as a foundation for them when they're learning how to read!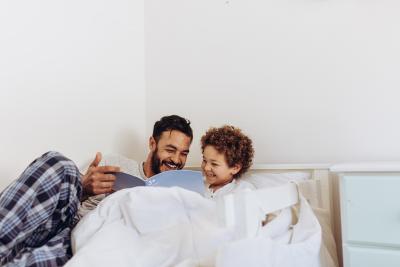 Why is early childhood literacy important?
These skills set children up for success when they're learning how to read in kindergarten and beyond. Additionally, research shows that establishing good reading skills by the 3rd grade sets children up for success in the years to come when they're no longer learning how to read in school, but have to apply their reading skills to learning many different subjects like math, social studies, and science. Research also shows that nine out of ten children who are reading on grade level by the 3rd grade will likely graduate high school on time.
What things can you all as parents or caregivers do to promote early childhood literacy
It's really important to read to your baby starting from when they're born! You can also narrate every day moments like mealtimes or bath times, sing to them, and even ask them questions. Even though they may not be responding to you with words yet, they might smile or babble, and they're absorbing a lot of information about patterns of language just from you reading to them and your interactions with them.
When you're reading to them as infants you might notice that they want to put the books into their mouths and that's okay. You can use books with cloth pages or board books with thicker pages which are developmentally appropriate and teach them book handling skills like how to hold a book upright and turn the pages.
When they are toddlers, you may find it more difficult to keep them engaged, but remember that you want to make reading fun and interactive and nurture a love of reading - it's okay if they can't sit through an entire book! Read with them anyway!
There are so many literacy resources on the internet including phone applications or videos that read to your children, but remember that the parent-child interaction they get when they're reading with you is so personal and promotes social-emotional and brain development in a way that electronics can't compare to.
What if my child lives in a multilingual household?
The ideal language-learning window is during the first few years of life, the most rapid period of brain development, so don't hesitate to teach your children multiple languages early! We know that exposing infants and toddlers to more than one language will not cause speech delays and will foster their early literacy skills. Per the AAP, research also shows many academic advantages of being bilingual, including superior problem solving and multitasking skills, as well as increased cognitive flexibility.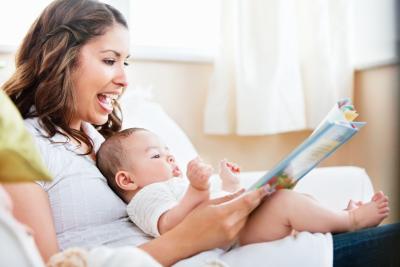 Why is reading important?
Reading is a fundamental skill and the basis for all learning! It helps children develop their vocabulary, imagination, writing skills, and critical thinking skills. It also exposes them to the world outside of their own - new ideas, the experiences of different people, and places they've never seen.
So, where do I start?
If you're not sure where to start, one of the best resources you have access to is your local public library! There, you'll have access to librarians who can help you pick from several age-appropriate books. They also have story times for all ages (starting with babies!) to where library staff read books to children in different age groups and participate in a variety of fun & educational activities. The public library is FREE, offers so many options for your family and even has virtual storytime events!
Check out our Diversity and Inclusion resource page for a list of books on anti-racism that your older children can read, too!
Early Childhood Literacy tips can be summarized by the AAP's "5 R's" of early education including:
R

ead together every day with your child

R

hyme, play and cuddle with your child every day

Develop

R

outines, particularly around meals, sleep, and family fun - and reading!

R

eward your child with praise for successes to build self-esteem and promote positive behavior

Develop a strong and nurturing

R

elationship with your child as the foundation for their healthy development
We can't wait to hear what you're reading with your children at your next visit!
References
https://www.healthychildren.org/English/ages-stages/baby/Pages/Developmental-Milestones-of-Early-Literacy.aspx
https://www.healthychildren.org/English/ages-stages/gradeschool/school/Pages/7-Myths-Facts-Bilingual-Children-Learning-Language.aspx
https://www.healthychildren.org/English/ages-stages/preschool/Pages/Helping-Your-Child-Learn-to-Read.aspx
https://www.aap.org/en-us/advocacy-and-policy/aap-health-initiatives/EBCD/Pages/Five.aspx
https://www.firstthingsfirst.org/first-things/podcast-reading-language-and-early-literacy/