Winter Car Seat Safety
Winter weather is officially here in Maryland! With the upcoming snowy weather and frigid temperatures, it's important to reinforce car seat recommendations that will keep your infants and young children both warm AND safe on the road. The American Academy of Pediatrics (AAP) advises against the use of bulky clothing, including winter coats and snowsuits, underneath the car seat harness. As a general rule, put nothing thicker than a sweatshirt or fleece jacket on your child before buckling them into their car seats.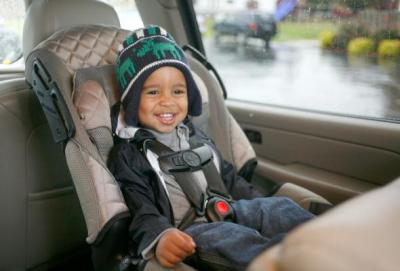 Winter coats and snowsuits contain fluffy padding that immediately flattens out during situations of force, such as in a car crash. This changes the way a child fits into their car seat. When the car seat harness straps don't fit properly, a child can slip through the straps and be ejected from the car seat.

Here is a simple way to check if your child's coat is too big to wear under their harness:
Put the coat on your child, sit them in their car seat and fasten the harness; Tighten the harness until you can no longer pinch any of the harness webbing with your thumb and forefinger;
Without loosening the harness, remove your child from their car seat;
Take the coat off and put your child back in their car seat and buckle the harness straps, which are still adjusted as they were when he/she was wearing the coat;
If you can now pinch the webbing between your thumb and forefinger, then the coat is too bulky to be worn under the car seat harness.
(see the "pinch test" illustration below)

Recommendations for infants:
Dress your infant as if they were going to be indoors;
Put them in their infant car seat;
Secure the car seat harness, nice and snug (refer back to "pinch test");
Top them off with a hat and blanket(s) over the harness straps and carry baby out to the car;
As the car warms up, you can remove the blanket(s) and then replace them over your baby when you arrive at your destination (this also helps ensure your baby doesn't get overheated).
Recommendations for toddlers and preschoolers:
Dress your child comfortably and put on their coat and hat for their walk out to the car (using a hat, gloves, and warm socks or booties will keep their head, hands, and feet warm however these won't interfere with the snugness of the car seat harness);
Take off the coat and buckle your child snugly in their car seat harness (refer back to "pinch test");
Put the coat on over your child – they can put their arms in the sleeves backwards and wear it like a blanket (or you can use a blanket over their lap, over top of the buckled harness and straps);
Your child can then remove their coat or blanket as the car warms up.
You can easily put the coat back on your child when you arrive at your destination.
Here are a few additional tips for winter car travel safety:
For infants, keep the carrier portion of your car seat indoors so it isn't cold when you put your baby into it.
Whenever possible, warm up your car before putting your child in their car seat.
Pack a safety bag with warm, dry blankets, clothes, hats and gloves to keep in the car.
Use a car seat cover only if it does not have a layer between the child and the seat or the harness and be sure to leave your baby's face uncovered.
Always try to give yourself extra time when leaving the house. Winter travel requires additional precautions and steps.
 

Besides using the basic car seat recommendations for regular use, these tips for the winter months can help to keep your child safe and warm as you embark on your everyday routines and outings with family and friends.