Choking Prevention
Your child choking is one of the most frightening things you may ever experience, especially if you don't know what to do.  According to the American Academy of Pediatrics (AAP), "mechanical airway obstruction is the leading cause of death for children younger than one, and the fourth most deadly for children ages 1-9 years old." However, most of these deaths can be preventable if caregivers take the proper precautions and understand what to do if a child is choking.
There are several things that you can do to prevent choking in your child.  Experts state that having your child sit at the table while eating is one of the best ways to prevent the majority of choking accidents.  First, this allows parents to see their child's face while eating to observe for signs of airway obstruction, since choking is silent and can occur quickly.  Second, toddlers and young children have a difficult time multitasking, therefore, watching television or running around the house can be a set up for a choking episode. This can be devastating if it occurs in a separate room from where parents are located and the child is unable to call for help.  Finally, a child should not be given food to eat in the car, especially when rear facing.
Parents must also be aware of the mechanism of choking and that the size of an infant or toddlers airway is one-third the size of an adults. Choking hazards include toys and household items, but food is the most common source of choking. Therefore, it is imperative for parents or caregivers to prepare food that is safe for the infant or child. Food should be cut into bite-sized pieces and made soft enough to make chewing easier.  Sticky foods such as peanut butter should be thinned out with water and liquids should be offered frequently between bites of food to help prevent choking.
The following foods are most commonly associated with choking:
Hard candy
Grapes
Popcorn
Cubed cheese
Nuts
Raisins
Raw vegetables
Lollipops
Gum
Hot dogs
Below is an image of how some of these foods can be cut into smaller pieces for safer feeding.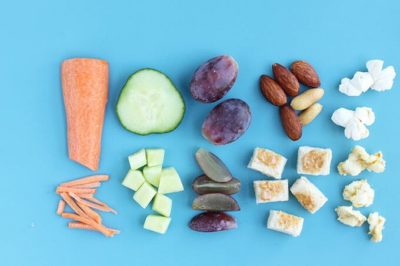 Household items that pose a huge risk of airway obstruction in children are small toys, coins, batteries, magnets, buttons, bottle caps, small balls, balloons, and other office supply items.  Older siblings must frequently be reminded to put small toys or other items out of reach or into a separate room away from infants and toddlers.  Parents should take the time on a regular basis to check under the furniture and between the couch cushions to remove small items that may be found by their little one.
It is obviously impossible to remove every single thing from the environment that may pose as a choking risk. Taking a few extra minutes to cut your child's food into small pieces, having them sit at the table while eating, and keeping small items out of reach can decrease the odds of this occurring.
In the unfortunate event that an infant or child does choke, all parents or caregivers should know infant and child CPR and choking care to be able to react quickly and appropriately.
Here is a CPR reference guide from the American Red Cross; however, CPR certification from the Red Cross or another certification program is recommended.
Article originally published at Chesapeake Family Life.